The 'Monograph of Macaws and Conures' is an indepth study of this group of parrots.
The 'Monograph' took six years to complete with text by Tony Silva of the USA and paintings by British artist, Eric Peake.
Published in Canada, the collection of 40 original watercolours painted exclusively for the 'Monograph', as well as 8 original watercolour paintings of Amazon parrots, are being offered for sale by their private collector in Canada.
The original paintings have never been put into print and are exclusive to the private collector.
This entire collection of 48 original watercolour paintings is now to be sold for $525,000.00 (US) and represents some of the finest detailed parrot paintings in the world.
This is a unique investment opportunity to purchase the entire collection that has never been viewed before in its entirety.
The first 12 paintings were on display at the World Parrot Convention in Tenerife, Canary Islands.
Six paintings were on display at the Southeastern Wildlife Art Exposition in Charleston, South Carolina, USA, along with a 'special, feature exhibition' by Eric Peake on parrots of the world.
Of the 48 paintings to be sold, only these 18 have been viewed by the public before being sold to the private collector.
The original painting of 'Spix's Macaws' by Eric Peake was chosen by the Loro Parque Foundation as their logo. The 'Spix's Macaw with Young' was sold at auction for $23,500.00 US.
Many investors have purchased Eric Peake's original watercolours and limited edition prints. The limited edition print, 'Spix's Macaw' is currently valued at over $600.00 (US). 'Scarlet Macaws' is the largest original watercolour painting by Eric Peake and was resold by its collector for $16,000.00 (US). Nine hundred pieces of Eric Peake's parrot artwork grace the world famous Hotel Botanico in Puerto de la Cruz, Tenerife. 'Princess of Wales Parakeets' by Eric Peake, an original watercolour painting is in the Royal Collection, London, commissioned in 1989 for H.R.H. Princess Diana, Princess of Wales. This clearly indicates that even in this economic climate the art work of this living artist fetches high prices on the open market and is an excellent investment for the future.
For further details please contact: Email: nicholas@naturaldata.com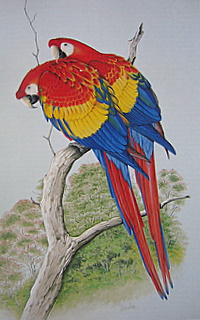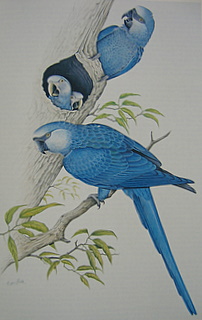 Original Watercolour Paintings by Eric Peake
from 'Monograph of Macaws and Conures'