INTRODUCTION TO ERIC PEAKE PRINTS
LIMITED EDITION ARTIST SIGNED
Eric Peake has two different types of reproductions of his original watercolour paintings. The Limited Edition Prints are signed and numbered by the artist. When the edition is sold out at the publisher level, the print can then only be obtained through a secondary market. Thus making this type of print highly collectable and valuable. The Artist Signed Print is not a limited edition but is signed by the artist. This print is considered an 'open' edition and can be obtained as long as the publisher prints the image.
LIMITED EDITION PRINTS
Many painstaking hours have gone into producing the highly detailed original watercolour painting for an Eric Peake limited edition print. With each COMPLETE EDITION of an image you will find these editions.
REGULAR EDITION: This is the regular run of the print. Eric Peake print runs vary from 50-950. The total REGULAR EDITION is the bottom number handwritten on the print. The top number is the print number in the run.
e.g. 132/500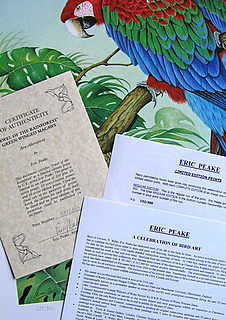 ARTIST PROOFS: These are the first prints done and approved in the run. Years ago these tended to have richer ink colour and were more sought after. With today's technology all prints in the run are technically about the same in printing quality. Some collectors prefer an ARTIST PROOF to a REGULAR EDITION because it is more limited. Eric's early prints had only 6 ARTIST PROOFS worldwide. All of the more recent prints have 10 ARTIST PROOFS. Because they are more limited and collectable, they are also more expensive.

e.g. 4/10 ARTIST PROOF

CONSERVATION PRINTS: These have been done to help raise money for conservation, education, research, rescue and rehabilitation of pscittacines (parrots) and are usually donated for that purpose. Some collectors prefer to buy them when made available or through a special request. When a CONSERVATION PRINT is sold, the equivalent value or more in REGULAR EDITION prints is in turn donated to raise funds. CONSERVATION PRINTS have varied from 6-50 worldwide. These are more limited and collectable, therefore more expensive.

e.g. 18/30 CONSERVATION PRINT

ARTIST EDITION PRINTS/PUBLISHER EDITION PRINTS: These are the artist's/publisher's private collection. Only after a REGULAR EDITION is SOLD OUT will Eric open his private collection and allow a few for sale to requesting collectors. These are the most collectable and difficult to obtain. They are also the most expensive. ARTIST EDITION prints have varied from 6-25 depending on the print image. PUBLISHER EDITION prints are available only on these images: 'African Grey Parrots', 'Moluccan Cockatoos', 'Hyacinthine Macaws' and 'Yellow winged Amazons'. PUBLISHER EDITION prints are an edition of 10.

e.g. 2/10 ARTIST EDITON e.g. 2/10 PUBLISHER EDITION

Limited Edition Prints are sold unframed and are shipped
in a heavy duty shipping tube.

All Limited Edition Prints come with a Certificate of Authenticity, Description and Care of Artwork Information sheet and an Artist
Biography Sheet. They are sold unframed and are shipped
in a heavy duty shipping tube.

Please visit the PARROT section under Limited Edition to view and purchase Eric Peake's Limited Edition Prints.

For 'Special Editions' such as 'Secondary Market' Prints, Artist Proofs, Conservation Prints, Publisher's Editions and Artist Editions go to the Special Edition section.